We are now subscribing to Accelerated Reader Enterprise!!
Our AR program is now "web based".
Parents can use the Home Connection to keep up with their child's progress.
Books that are not on our school's library shelves may be AR! You will need to check online for quiz availability and age/reading level appropriateness.
NOTE: Students will only be able to take quizzes at school.

(Keep scrolling down the page for some links you might enjoy and the link to get to some online REFERENCE sources!)
PARENTS! Click the links below to find out more!
Parents Guide to Renaissance Home Connect
Parents Guide to Accelerated Reader - Q & A
Parents Guide to AR BookFinder
Parents can click the link below to set up a Home Connect account:
Parent Log In Page
Just follow instructions on the screen.
Click the icon below to check a book's quiz availability, reading level, and point value!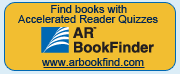 Keep an eye on the widget below to see how well we are doing to reach our school-wide AR goal for the 2014 - 2015 school year!
LINKS to LOOK AT
The following are links to sites that offer free e-books. Happy Reading!

Starfall
byGosh
Storyline Online

Access a Reference Librarian!AskAway Illinois

Access some free online Reference Sources here.

Search the KidsClick Site

Search our 600+ subjects by letter:A B C D E F G H I J K L M N O P-Q R S T U-V W X-Z